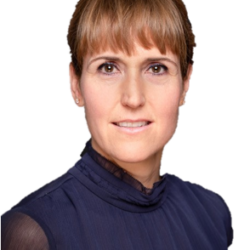 Angela Wiebeck
Chief Sustainability Officer Aquila Group
Angela is the Chief Sustainability Officer at Aquila Capital. As a member of the senior leadership team, she advises on all aspects of sustainability and supports all activities, investment projects and firmwide efforts that enhance the company's sustainability agenda, performance, and operations.
With more than 20 years experience in the financial sector, Angela has held a variety of senior roles in sustainability. Prior to joining Aquila Capital, she worked at UBS for over 17 years. Most recently, as Head Sustainability Projects where she led group projects such as Net Zero and the Principles for Responsible Banking.
From 2017 to 2021, Angela led UBS in the creation and implementation of it´s group wide sustainability strategy and represented the bank in industry forums. Before that she defined the sustainable investing strategy for private clients as Head Impact Investing.  Angela started at UBS in a client facing capacity and began her career in finance at the Royal Bank of Canada.
A committed and impact driven leader, Angela sits on the Pension for Purpose´s Advisory Board and supports it´s mission to drive more capital to impact investments.
<< Back