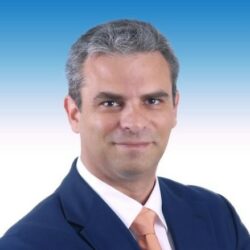 Vassilis Papaeconomou
CEO Alectris
Vassilis Papaeconomou brings executive solar photovoltaic (PV) development and construction expertise to his role as co-founder and managing director of Alectris, a global operations & maintenance (O&M) independent service provider. As a German trained engineer, he drives continues improvement in every aspect of the company including operational, engineering and team performance to re-define O&M and outperform client expectations.
Prior to Alectris, Vassilis held the position of Operations Director for Advartia, a European based solar EPC firm he also co-founded. The firm's solar PV portfolio includes the construction of medium- to large-scale assets in Greece.
Before solely focusing on the solar market, he held the position of Operations Director at Agrology, a firm active in Greece, Italy, Belgium, Spain and the U.S. in the fields of agriculture and renewable energy.
Vassilis has authored several White Papers on O&M and is a subject matter expert presenter. He is multilingual and holds a Chemical Engineering degree from Universität Karlsruhe (TH) and an Abitur from Deutsche Schule Thessaloniki.
<< Back