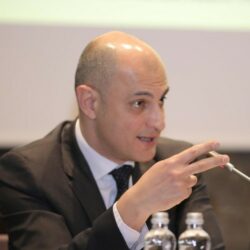 Vassilis Triantafyllos
Special Advisor to the Secretary General for Energy and Mineral Resources Hellenic Ministry of Environment and Energy
Vassilis is a Lawyer and Energy Expert. He is Special Advisor to the Secretary General for Energy at the Ministry of Environment and Energy of Greece.
He has 20 years' experience in advising clients on Business Law and Energy Law. He has worked as Director of Legal and Regulatory Affairs for the Greek TSO, IPTO S.A. and as Legal Counsel for the (at the time) Electricity Market Operator and Renewables Counterparty, LAGHE S.A. (now DAPEEP S.A.).
He participated as an Expert in many Trechnical Assistance Projects on Renewables, Energy Markets and the Energy Transition for the European Commission (DG DEVCO, DG NEAR), the EBRD and the U.N.E.C.E., among others. His experience covers Southeast and Eastern Europe, MENA, Central Asia and the Caucasus.
He also taught International Business Law and New Technologies Law at the Postgraduate Program "LLM in International Business" co-organized by Cardiff Metropolitan University and City Unity College in Greece (2015 – 2019).
<< Back