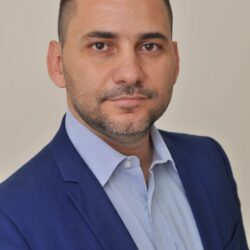 Vassilis Zorbas
Managing Director Entricity
Vassilis Zorbas was born in Athens in 1974; he studied Mechanical Engineering in the National Technical University of Athens and holds an MBA from Cardiff Business School. Vassilis started his career holding various managerial positions in Unisys and Procter & Gamble Greece.
Since 2006 he has been working in the Renewable Energy sector in Project Development, EPC execution and General Management positions. After leading the Solar Engineering teams of strong international groups such as Wuerth Solar, Skysolar and Sunrise, he moved to Phoenix Solar where he served for 3 years as a General Manager for Greece and Commercial Director for Europe.
In 2019 he founded Entricity, a firm specialized in Business Development, Design and Construction of Renewable Energy, Battery Storage and Hydrogen projects. Scope of Entricity is to expand its RES operations to selected European countries and enhance its business platform by getting actively involved in E-mobility. Entricity has currently under development in Greece a substantial pipeline of Solar and Battery Storage projects with an overall capacity of more than 6,5GW.
<< Back